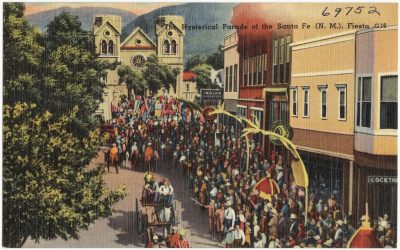 Santa Fe's Fiesta celebration has been going on for over three centuries — and has been continually changing. City historian Andrew Lovato takes us through the myriad manifestations of fiesta, and they ways they reflect the changing nature and culture of the city.
Santa Fe New Mexican
Award-winning radio host Mary-Charlotte Domandi partners with the Santa Fe New Mexican, the oldest newspaper in the West, to bring you in-depth interviews on subjects from politics to the arts to science and nature. We bring you two podcasts a week, on Tuesdays and Thursdays, and available any time you want to listen.
Please send your comments and ideas to feedback@radiocafe.org.