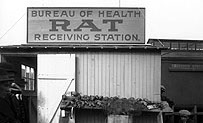 Around 1900, bubonic plague struck San Francisco and threatened to wipe out huge numbers of people. David K. Randall's new book, Black Death at the Golden Gate, tells the gripping story of the doctors who had both to fight the disease and convince the public of the threat.
Santa Fe New Mexican
Award-winning radio host Mary-Charlotte Domandi partners with the Santa Fe New Mexican, the oldest newspaper in the West, to bring you in-depth interviews on subjects from politics to the arts to science and nature. We bring you two podcasts a week, on Tuesdays and Thursdays, and available any time you want to listen.
Please send your comments and ideas to feedback@radiocafe.org.