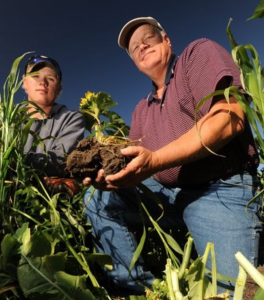 Gabe Brown and his family endured hail, drought, and near ruin before they changed their way of farming and ranching. Theirs is a story of creative response to adversity that led to a much healthier and more successful landscape and business than the previous model.
Brown's Ranch has inspired people from all over the world; Gabe Brown has been profiled in many media stories, including in the New York Times. They also serve as a model of how a biodiverse ecosystem can give rise to diverse revenue streams.
photo credit for double rainbow photo: Organic Growers School
photo credit on this page: Brown's Ranch
Many thanks to KSFR, Santa Fe Public Radio.